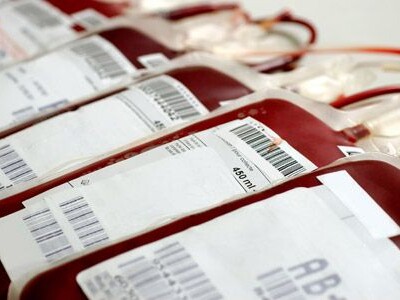 Cercetatorii americani au reusit sa creeze sange artificial, care ar putea fi folosit in tratarea soldatilor raniti pe front.
Sangele, creat cu ajutorul ingineriei genetice, este obtinut din celule extrase din cordoane ombilicale, care sunt apoi tratate sa imite felul in care maduva oaselor produce celule rosii.
Cunoscut sub numele de "blood pharming", programul de cercetare a fost lansat in 2008 de Pentagon, in vederea tratarii soldatilor raniti pe front.
Firma Arteriocyte a primit 1,95 de milioane de dolari pentru proiect. Iar acum a trimis prima mostra de sange din grupa O negativ catre The Food and Drug Administration (FDA).
Dintr-un singur cordon ombilical se pot obtine in jur de 20 de unitati de sange, in timp ce un soldat ranit pe front are nevoie de numai sase. Iar celulele rosii produse folosind aceasta metoda "nu se deosebesc in modul de functionare de celulele rosii "naturale", sustin repezentantii companiei.
Daca este aprobat de FDA, sangele "artificial" ar putea deveni indispensabil soldatilor raniti in zonele de conflict, unde lipsa donatorilor poate afecta tratamentul.
Pentru ca odata colectat, sangele poate fi folosit in conditii de maxima siguranta numai aproximativ o luna de zile, transfuziile pe front sunt extrem de riscante, din cauza unor posibile infectii. Cu toate acestea, "pana acum, strategia militara a fost in principiu de a folosi sange invechit".
Sangele creat artificial ar putea fi solutia la aceasta problema.
Testarile pe subiecti umani ar putea incepe in 2013, dar compania producatoare crede ca ar putea fi folosit pe front in cinci ani daca Pentagonul doreste acest lucru.
O unitate contine aproximativ 473 de mililitri de sange, in timp ce in corpul uman se afla intre 3,78 si 4.73 de litri.
Momentan, o unitate de sange produsa in laboratoarele Artericyte costa in jur de 5.000 de dolari, insa atunci cand va incepe procesul de productie in serie pretul va scadea la 1.000.
Sangele produs in laborator este de tipul O negativ pentru ca numai acesta poate fi transfuzat oricarui pacient, indiferent de grupa sanguina.
Sangele "artificial" ar putea rezolva si problema spitalelor care se confrunta cu lipsa de donatori.